Art-Portal is a unique on-line platform on the world art history.
Art-Portal https://art.biblioclub.ru/ contains more than 65,000 images, information about more than 7,000 creators and more than 3,000 museums.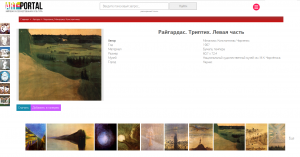 Registered users can enjoy enlarged detailed view images for free.
The platform also contains a number of sections with hybrid access model, when full text-articles are available upon subscription.
Contact us eresources@mippbooks.com to learn more about subscription to Art-Portal or purchasing e-books on various aspects of art.
More details about Art-Portal are in our presentation.